Brave by Reneé
Peace Itimi: Documenting African Tech Stories with Founders Connect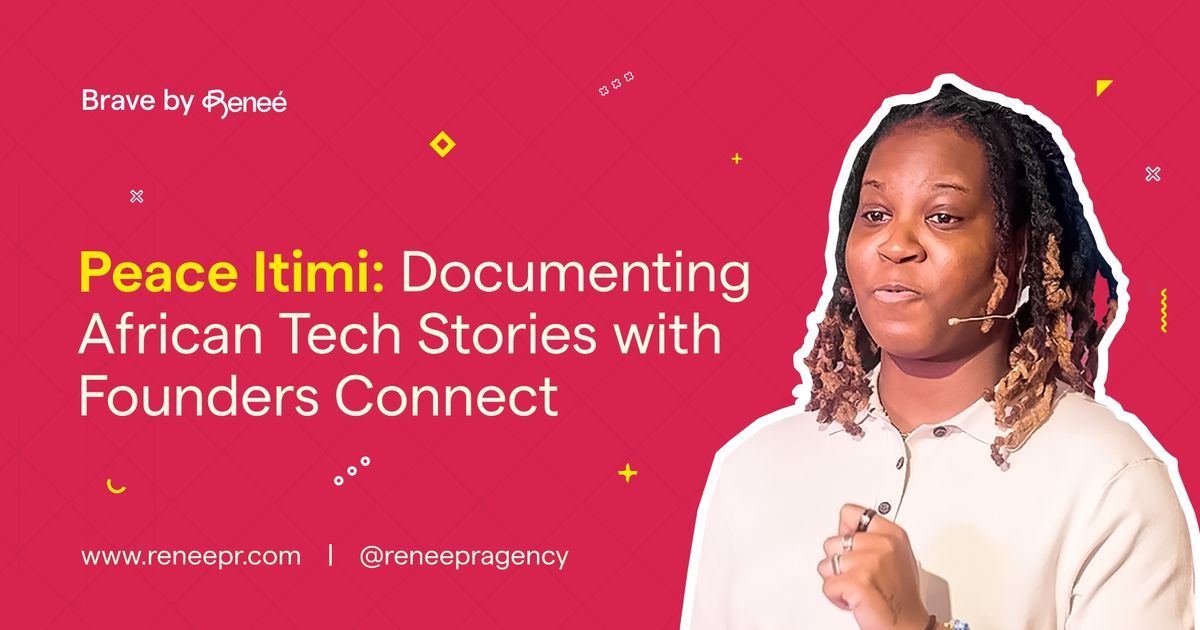 ---
From marketing to media and events, Peace Itimi is building and leaving a legacy of excellence, and promoting a culture of storytelling and fostering community. For over a decade, her mantra of "experiment, learn, practice" has shaped her path to success and made her an important part of the African tech ecosystem.
Her brainchild, "Founders Connect," has evolved into an influential platform that brings various stakeholders in the tech ecosystem together for meaningful dialogue and networking. Through "Founders Connect Live," she has taken this engagement to the next level, organising events that take her content beyond screens and afford people the opportunity to interact with leaders in the tech industry firsthand.
The Beginning
Peace Itimi's early life was marked by promise and potential. She grew up in a close-knit family unit and attended quality schools, an educational journey that led her to Delta State University (DELSU). Peace initially wanted to study medicine but was offered the opportunity to study medical biochemistry instead. She embraced the challenge, inspired by her mother's belief that she could later transfer to a medical program.
However, when she attempted to make the transfer in her second year, it was refused due to a lack of available slots in the medical school. This setback had a negative impact on her mind and weighed her down until she came across a blog post on Twitter that led her to a new passion – writing. Putting her feelings in writing proved to be therapeutic, so she started a blog where she shared her life experiences.
Finding Her Path
Her writing attracted a readership on campus, leading a friend to suggest that she apply to the Google Student Ambassador (GSA) program. Despite self-doubts about her tech-saviness, she applied and became the first GSA at her university. This experience opened her eyes to the world of digital marketing, which would later become her professional passion. She began teaching digital marketing, and her initial engagement with online advertisements laid the foundation for her future career.
Together with her friend Joyce Imiegha, Peace co-founded Rene Digital Hub, offering digital marketing and content strategy services to businesses. While the venture was eventually dissolved 2 years later due to commitment to their full-time jobs, the experience ignited her entrepreneurial spirit.
Peace's career continued to evolve as she took on roles with prominent digital marketing agencies, including Webcoupers and Wild Fusion. Her roles involved training people on digital marketing, branding, Google Ads, and SEO. Her passion for expanding her horizons and seeking new challenges led her into growth marketing, eventually landing her at Seedstars, a global venture capital fund. There, she assumed the role of Growth Marketing Lead in Africa, solidifying her commitment to this dynamic industry.
The Birth of Founders Connect
True to her ever-enterprising spirit, Peace embarked on yet another journey in December 2018, launching her YouTube channel. Initially, she shared marketing tips and life lessons, but it was the introduction of the "Founders Connect'' segment nearly two years in, that truly marked a turning point.
In October 2020, Atsu Davoh, Founder of Bitsika, a tech startup that uses blockchain technology to help Africans receive and send money, asked to be interviewed on her YouTube channel. Although this was different from her core offering, she went with the idea and interviewed him, and discovered she liked the experience.
That single interview evolved into a dedicated segment to engage various founders, operators, and investors in the African tech and entrepreneurship space, tell their stories, and shed light on their journeys and innovations. With over 1 million cumulative views on YouTube, Founders Connect has featured over 80 founders of leading tech startups such as Paystack, Kuda Bank, Eden Life, Andela, Wakanow, Alt School, Nestcoin, PiggyVest, YellowCard, MTN Nigeria, among others.
These days, Peace receives pitches from founders wanting to appear on the show, a long way from the early days when she had to reach out to interview subjects. Through all the growth, Peace's ethos has remained the same; her criteria for selecting founders to interview remains based on her interest in the individual's journey, making it about the person, not just their product.
Like most endeavours, there are challenges in executing her full vision for Founders Connect. For example, limited resources mean she cannot travel to different countries on demand to tell stories that document the innovation and growth of tech in these places. But despite these limitations, the brand is experiencing steady growth.
Founders Connect Live: A Vibrant Celebration of Innovation
In July 2023, Peace expanded her vision with the launch of "Founders Connect Live", an event that brought together the Founders Connect audience for a day of networking, insightful discussions, entertainment, and celebration.
The event, which was held in Lagos, featured live interviews with pioneering tech founders in Nigeria, such as Funke Opeke, founder and CEO of MainOne, and Tayo Oviosu, founder and CEO of Paga. These discussions delved into their experiences in building enduring tech companies on the continent, lessons learnt, as well as predictions and projections for the future of the Nigerian and African tech ecosystems. In addition to these interviews, attendees were treated to a diverse lineup of activities, including keynote sessions, live musical performances, games, photo booths, and delectable food and drinks.
Following the success of the Lagos edition, she followed this up with a Founders Connect Live event in London in October 2023. This was successful as well, headlined by Tosin Eniolorunda, Founder and Group CEO, of Moniepoint Inc. In addition to the live interviews, keynote speeches and panels, attendees were treated to an exclusive screening of 'Innovating Africa - Rise of Tech in Nigeria,' a Founders Connect documentary highlighting the evolution of the tech ecosystem in Nigeria over the past 15 years.
With the live events, Peace's passion for documenting the tech community has evolved beyond YouTube, bringing her devoted audience closer to each other and affording them to interact with like-minded individuals in person. This passion is poised to take on even more forms, like the forthcoming documentary, inspired by the desire to tell a bigger story.
Up until now, she has been focused on individual stories, but this connects them all and provides a comprehensive narrative. An attempt to provide a holistic view of the Nigerian tech ecosystem and its growth over the past 15 years, the documentary will be an evolution story, starting with the origins, and key moments, and spotlighting key individuals who made a difference.
A Vision for the Future
Peace Itimi's journey showcases the power of courage, adaptability, and making the most of opportunities. Through the Founders Connect Show and Founders Connect Live, she is not only creating a space for the amplification of African technology leaders' voices but has also fostered invaluable connections within the tech industry. And the best part? This is just the beginning.
Looking ahead, Peace sees Founders Connect growing into a highly reputable and widely recognized media organisation and community that shines a spotlight on the remarkable innovations within the African tech ecosystem. As for Founders Connect Live, she doesn't want it to be just another average tech event or conference; instead, she hopes it grows to be a space where people come together to connect, learn, and have fun through it all.
From an aspiring medical doctor to a storytelling maverick whose curiosity and bravery to try new things and experiment have led her to unforeseen heights, Peace is making a profound impact in the tech industry, one story at a time.
---
💡
Brave by Reneé
is a monthly storytelling series that spotlights exceptional people who embody bravery, either through their passions and professions or by sharing their stories. By telling these stories, we hope to applaud their bravery, inspire others and connect with both the featured heroes and our community on a deeper level. Their stories reflect our realities and remind us of the bravery within ourselves. You can read more Brave stories
here
.