Brave by Reneé
The Brave and Resilient Journey of Njoku Emmanuel
Njoku's journey from nurturing his passion for coding at the age of 13 to becoming the co-founder and CEO of Lazerpay at 19, is a depiction of unwavering determination, courage, and bravery.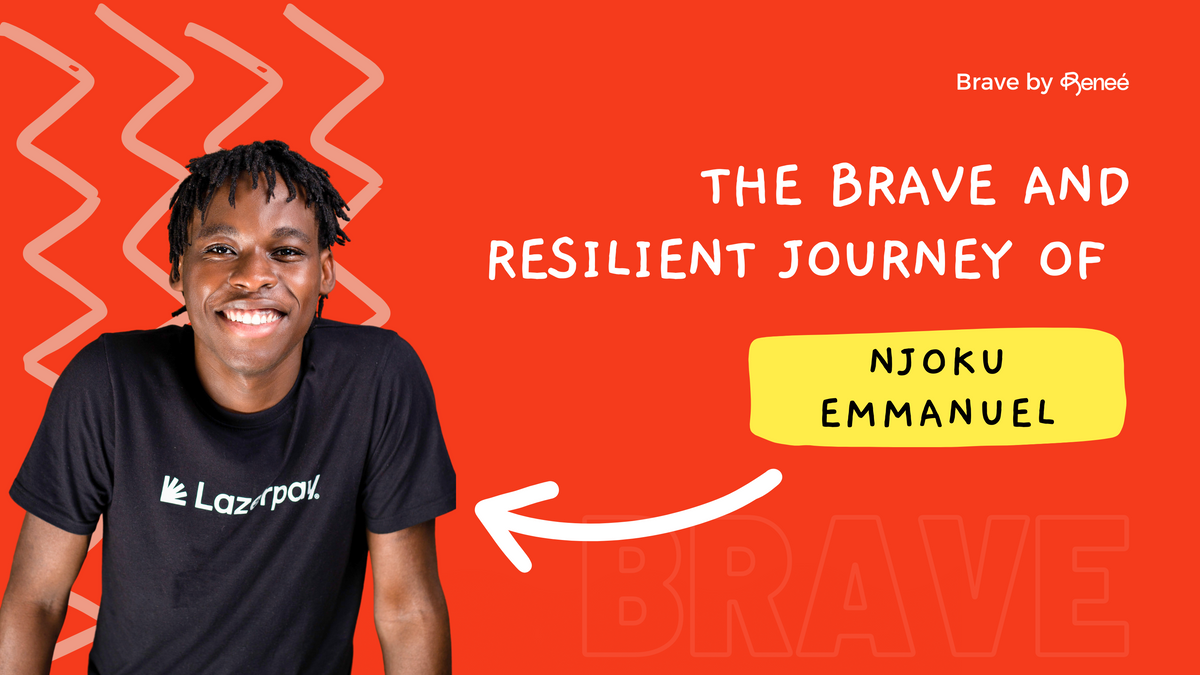 A Precocious Beginning
At 13 years old, Njoku Emmanuel was introduced to the world of computer engineering by his aunt, igniting a desire within him to develop revolutionary software systems. Njoku excelled academically, winning awards and building games with C++ while in secondary school. Njoku's parents, much like many Nigerian parents, harboured aspirations of their son becoming a medical doctor. However, he set his sights on a different path, one he was unwaveringly committed to. Uninterested in his parents' aspirations of him becoming a medical doctor, Njoku opted to study electrical engineering, thinking it would be a natural fit for him. However, he quickly discovered that the course curriculum failed to keep up with his exceptional abilities, leaving him feeling unchallenged and unfulfilled.
Pursuing engineering didn't align with Njoku's interests, but he remained committed to education's value. He channelled his energy into his true passion for coding, dedicating countless hours to learning and refining his craft. Even when his laptop was seized by his father, Njoku borrowed another and continued to code. When COVID-19 hit, the 2020 lockdown presented a chance to double down. Njoku dedicated 12 hours a day to honing his skills. He was set on becoming one of the finest blockchain engineers of his generation, a feat he set out to accomplish with confidence.

A Rapid Career Transformation
In less than two years, Njoku achieved an incredible career transformation, moving from a modest income of N70,000 ($77) to becoming a highly sought-after blockchain engineer, earning thousands of dollars weekly. It was during this time that the idea for Lazerpay started to take shape. After working in the blockchain industry for about 18 months, he made a pivotal decision to shift his focus entirely to his startup. Despite receiving a tempting job offer from Avarta, a Singapore-based blockchain security firm, worth over $300,000, Njoku turned it down to pursue his passion for promoting financial inclusion in Africa and beyond. He aspired to help businesses across Africa accept payments globally through cryptocurrency.

Founding Lazerpay
While Njoku Emmanuel served as CEO of Lazerpay, he went above and beyond leading his team in developing the payment gateway. He was also committed to sharing his personal journey and established himself as a thought leader in the industry. Through his story, he inspired, educated, and connected with people worldwide, particularly young people and those pursuing careers in tech. When faced with tough choices, Njoku communicated transparently and empathetically with stakeholders, displaying leadership skills, and utilizing several PR strategies for effective stakeholder communication.
Lazerpay had a strong focus on product development, growth, and marketing. However, the 2022 bear market strained the startup's finances. Their high burn rate became unsustainable, forcing employee layoffs and reduction of salaries in the company. Njoku and his team worked tirelessly but unsuccessfully to secure additional investments that could have buoyed Lazerpay during this difficult period and enabled expansion into new markets.
Embracing Failure and Building Resilience
Despite facilitating payments for over 2,000 merchants across several countries, Lazerpay made the hard decision in April 2023 to cease operations. Additional challenges such as compliance and undefined crypto regulations across Africa created barriers, hindering Lazerpay's ability to onboard more businesses.
"With respect to selling to enterprise, the major problem around our business not working or us not being able to scale was not [an inability] to sell to enterprise [customers]. We tried selling to enterprise in Nigeria [and there was a willingness on their part]."

"Think of the biggest payment gateways you know in Africa or Nigeria. We got into the room with the highest person in the organization. The problem was [that the] compliance [department] always shuts it down.

"The regulatory framework around crypto in Nigeria, which was our core market, was not clear at all, and these enterprise businesses don't want to put their business in harm or at the mercy of the central bank because they wanted to add crypto to their offerings. So that was the problem, and we realized that late," he shared in an interview on Crypto@scale podcast
Amidst these difficulties, and pressure from the media to discuss the events that led to the company's closure, Njoku maintained agency in deciding when and how the story would be told. When he was ready, Njoku set the record straight, dispelling rumours of Lazerpay's struggles while in business, or that his age impeded securing investment. While he felt burdened by the loss of his company, Njoku shared lessons from his experience on the crypto@scale podcast to enlighten other founders creating crypto solutions in Nigeria.
Shutting down a startup is perhaps a founder's biggest fear, but Njoku's incredible bravery stands out as he continues to create value, share lessons from his journey, and communicate openly – even when things get tough. His communication, rooted in transparency and vulnerability, models how building connection and community requires us to speak our truths, even when it's hard.
Njoku keeps on inspiring countless entrepreneurs and professionals grappling with similar challenges in financial startups in Nigeria. At the Oscafest 2023 event, Njoku who was a guest speaker, spoke courageously about embracing failure, the impact Lazerpay's closure had on him, and how he eventually summoned the courage to bounce back. We are rooting for his future endeavours and wish him success ahead.
---
💡
Brave by Reneé
is a monthly storytelling series that spotlights exceptional people who embody bravery, either through their passions and professions or by sharing their stories. By telling these stories, we hope to applaud their bravery, inspire others and connect with both the featured heroes and our community on a deeper level. Their stories reflect our realities and remind us of the bravery within ourselves. You can read more Brave stories
here
.